Jansim Boomerang TT CGC CGN CG AM.ME CAN.SE AM.CAN.RA CAN.RI CA CL1-R PCD TKN RATN BN BTC-VX BTCA-VX (Jansim Pup)
(proud owner - Pam)

Sadly, Boomer left on her "Big Adventure" on 18 March 2020, Click here to visit Boomer's Rainbow Bridge Page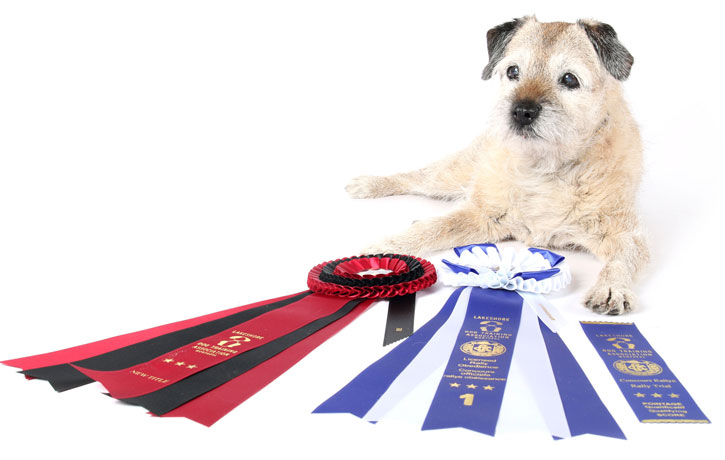 Aptil 06, 2019 - A new title Completed !!!

Against all the odds
When I saw that Susan Bosence was judging at our club's trials, I knew it would be the best chance Boomer could ever hope for to earn her 3rd Rally Intermediate leg.
Susan is one of the nicest judges out there. her courses flow and she judges in the spirit of the sport, looking for teamwork more so than clockwork precision.
Well, I don't think there was a dry eye ringside when Boomie qualified. As the only dog in the class, she earned a lovely first place Rosette as well as a New Title Rosette

This brag will benefit CBTW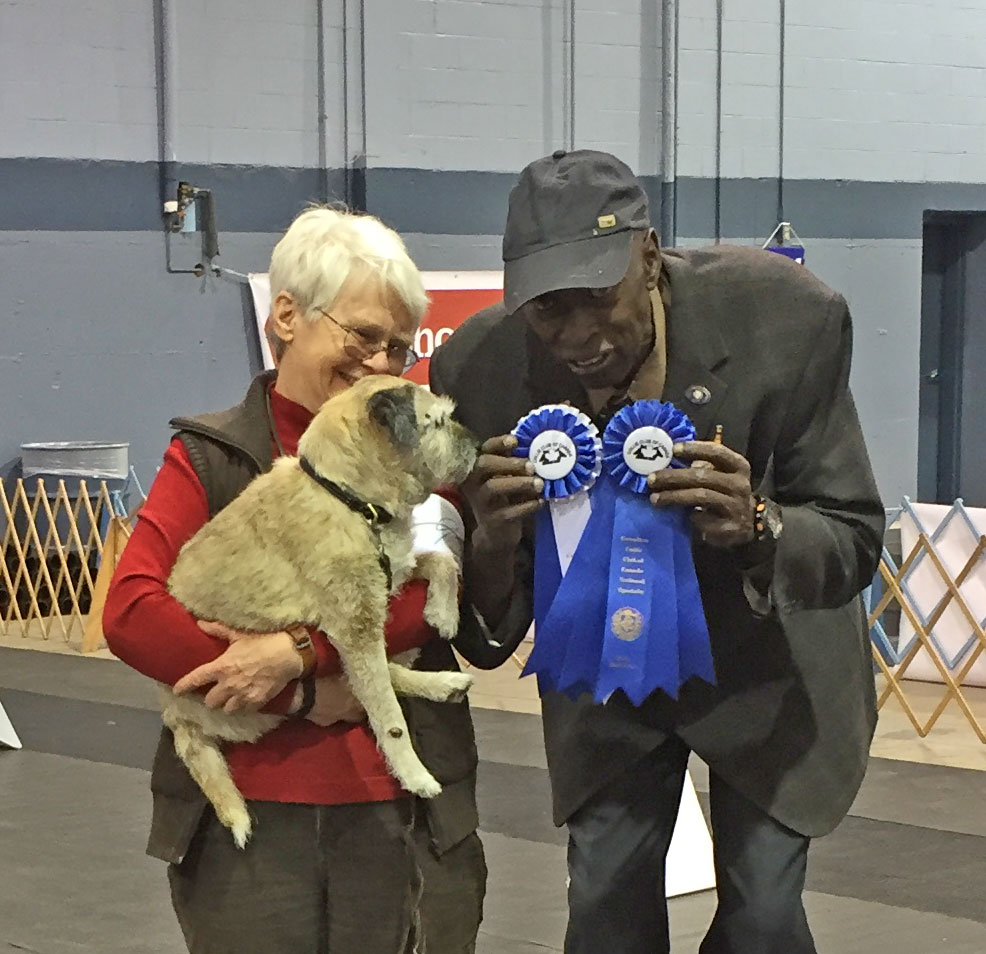 November 17, 2018 - A new title started....

...although it may never be completed
The news that Mike Calhoun might be retiting from judging prompted several of us to plan a trip to Moncton NB where he was judging All Breed Rally at the Collie Club of Canada Specialty and the Moncton Kennel Club shows.
It turns out, he is just [seriously] cutting back on assignments.

It is many years since Boomer competed under him, and having discovered that a dog can go back and do Rally Intermediate at any time after completing their Rally Novice title, we took advantage of the on-leash class.

Boomer's qualifying leg in the Collie Club of Canada Specialty Trial on Saturday morning was earned, her leg at the Moncton Trial in the afternoon was a bit of a gift but we will take it.

This brag will benefit CBTW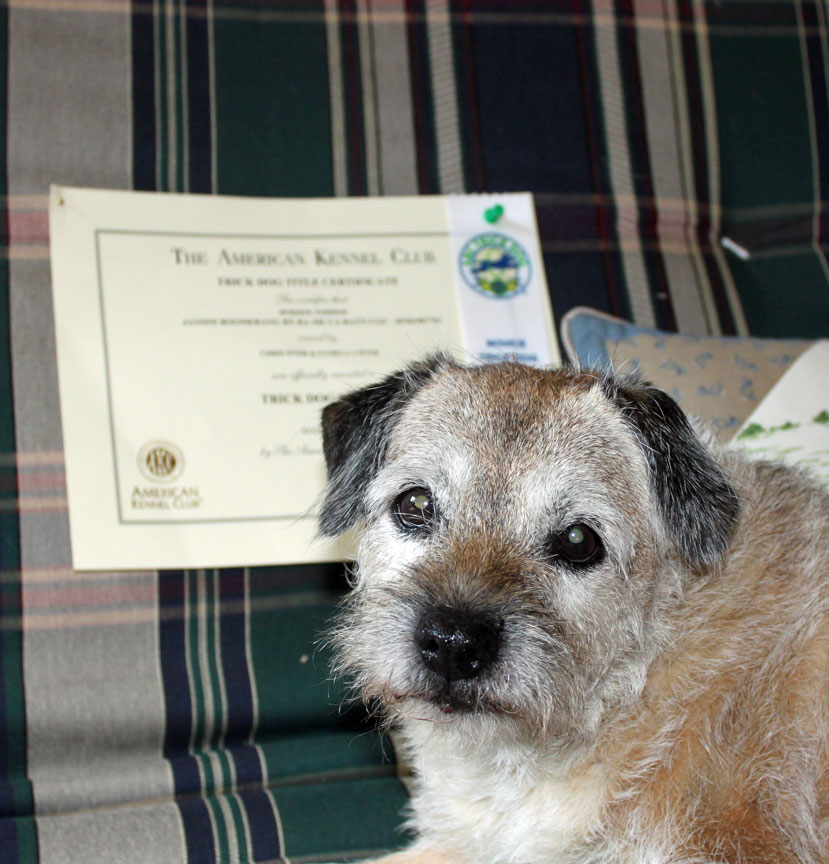 Who says you cannot teach an old dog new tricks!!!

August 03, 2018
Though in all fairness, they were not exactly new tricks!! Several of the elements of Boomie's AKC Novice Trick Dog routine form part of her daily ritual and the others are activities she loves to do when we have access to the equipment.
Conseqently, earning the title was more about my ego than her needs but I also did it to emphasize that old dogs, like senior people, benefit from remaining physically and mentally active.
Sure, it can take some imagination and ingenuity to find tasks and activities within their capabilities, but it is well worth the effort.
Sincere thanks to evaluator Lini Federici for going out of her way to make this happen

This brag will benefit CBTW
What we started in Ohio, we finished in Vermont
November 06, 2016 - Burlington Obedinece Training Club Rally Trials, Essex Junction, VT

Boomer earned the last two legs for her AKC Beginner Novice Title:

Sunday morning, judge John Landis - 186
Sunday afternoon, judge Denise Lacroix - 192 (4th place)

This brag will benefit CBTW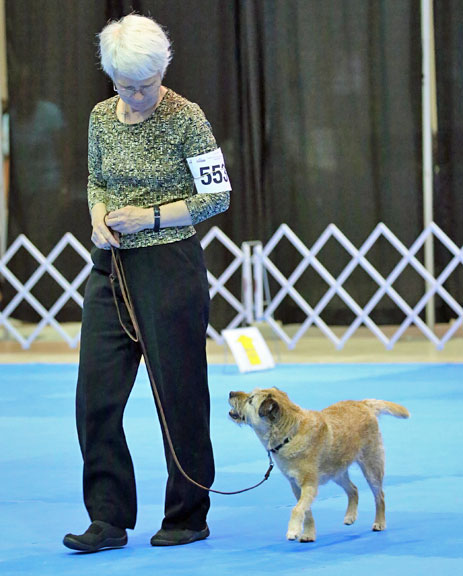 Border Terrier Club of America 2016 National Specialty success
Roberts Event Center, Wilmington, OH - June 13th-17th, 2016

After close to a two-year layoff, Boomer returned to the ring to earn the first leg towards her AKC Beginner Novice Title under judge Catherine Thompson with a score of 183.

We don't know if Boomie will have the chance to finish this title but that is not important, making the best of each day is.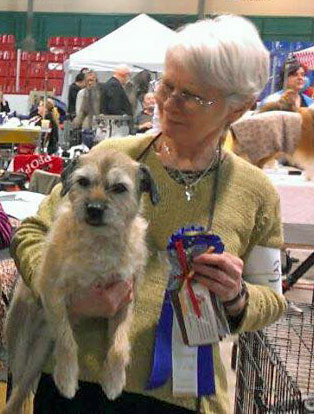 Phew!!!
Club Canin de l'Estrie - April 11th and 12th, 2014
Boomer somehow managed to qualify in Pre-Novice under judge Pierre Lambert in the morning trial to complete her CKC PCD title.
Her bonus run (and likely her obedience swan song) under judge Marie-Josee Michaud in the afternoon was much prettier
Mixed Results - February 07-08, 2015 - Ancaster, ON
Boomer qualified in Pre-Novice once at the Labrador Owners Club Trials (Saturday pm - judge Eva O'Keefe) and once at Hamilton Kennel Club Trials (Sunday am - judge Marie Sawford) to earn two legs towards her PCD title

This brag will benefit CBTW
April 05-06, 2014 - Barn Hunt Debut
A mini-vacation at beautiful Point Lookout Cabins in Maine combined with two days of Barn Hunt Tests at Wag It Training Center in Lincolnville was just the ticket for the winter weary Jansim gang

Boomer couldn't believe that anyone would leave an occupied tube in the open in Instinct but finally cottoned on and earned her RATI title.

Then, much to my surprise, she managed to maintain her enthusiasm and qualify in three out of four Novice runs for her RATN title.

This brag will benefit CBTW
May 25, 2013 - Fun in Agility
Despite not having seen any real agility equipment since December last year, Boomer had fun with a qualifying run in jumpers which gives her one leg towards something..

She ended the day with a beautiful Standard Run (Level One so doesn't count towards a title) - she was entered in a second Standard Run but I opted to end on a spectacular note.

This brag will benefit CBTW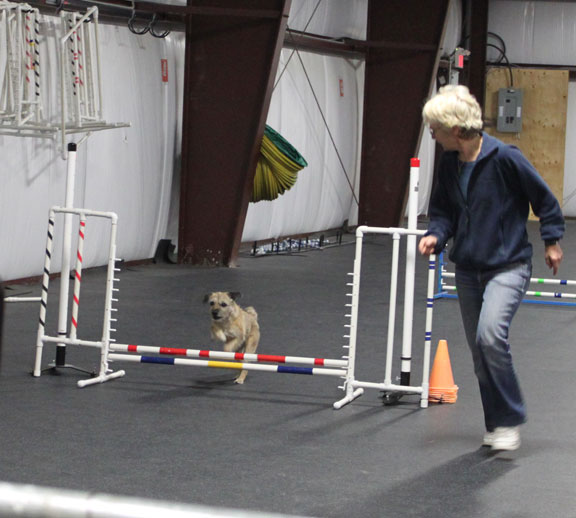 December 01-02, 2012 - Quite Agile
Despite undergoing treatment for Erlichia and not having the stamina we are used to seeing displayed by our "party girl", Boomer earned her CPE Standard Level 1 Agility Title.

The location was the Red Barn Event Centre in Barrie, ON - a location I thoroughly recommend - outstanding footing.

She had three qualifying runs (two required for the title), under judge Pat Saito and might have had four but was clearly tiring and hopped off the start of the dog walk.

Cousin Maisie had a great day on Sunday qualifying in Standard Level two and a game (Colours I think) - all very confusing.

This brag benefitted the local food bank
That takes care of that...
Boomer completed her CA title in fine style at the Bayshore Companion Dog Coursing Ability Test on June 03, 2012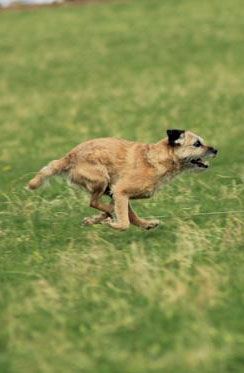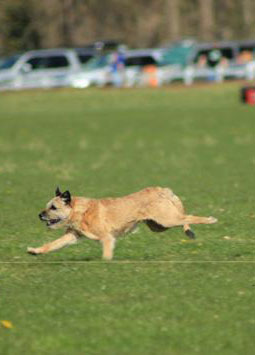 Coursing Countdown


Boomerang was one of four JJ dogs to have fun at the Empire Saluki Club Coursing Ability Tests (CAT) in Colts Neck, New Jersey on April 14-15, 2012. She earned her first two CAT Legs running 600 yards in well under the 120 sec time limit. On Sunday, she caught the lure a resulting in the operator having to stop the course. When she eventually let go, he restarted it and she finished in fine style.
It wasn't pretty, but....


Despite doing her best to ignore me, Boomer finally capitulated enough to qualify with a kind-hearted 79 (and 3rd place) under judge Linda Scanlon (who has put conformation, field and obedience titles on Australian Terriers and several Salukis) to complete her AKC Rally Advanced title at the Woodstock Dog Show on July 14, 2011 in Tunbridge, VT.
We went for a bonus leg at the Green Mountain Dog Club show on July 16, 2011 (same location) and Boomer was like a different dog. Perhaps it was judge Mike Calhoun's ability to make people and dogs unwind with his wisecracking and 100% "this is fun" attitude or maybe it was because it would be a "bonus". Either way she did a very nice round for a respectable 90 and 4th place.
This brag will benefit Canadian Border Terrier Welfare
A bit of a struggle


Boomer completed her AKC Rally Novice title at the Salt City Circuit in Syracuse NY on March 31, 2011 with a 96 and fourth place under judge Jean Nocilly.
She also struggled through her first two Rally Advanced legs on April 1st and 2nd under judges Jean Nocilly and Phyllis Broderick with mediocre scores of 80 and 78

This brag will benefit Canadian Border Terrier Welfare
Ending on a fun note


Boomer completed her CKC Rally Advanced title at the Labrador Owners Club Trial in Ancaster, ON on February 19, 2011. Boomer scored a reasonable 90 under judge Lorraine Purnell. Boomer earned a bouns leg under the same judge with a much nicer 96.
The venue, on the Ancaster Fairgrounds could not have been nicer. Highly recommended.

This brag will benefit Canadian Border Terrier Welfare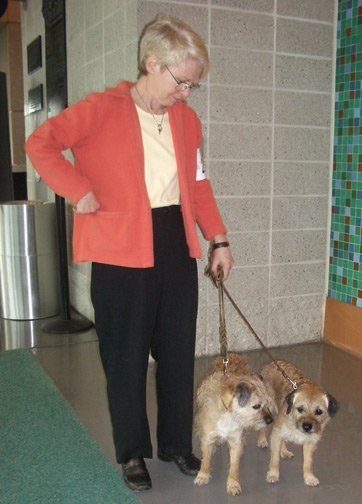 Much better.....


Thanks to a helpful and supportive judge, Boomer had a nice start to her AKC Rally career, earning her first two Rally Novice legs at the Sand & Sea Kennel Club shows in Wildwood New Jersey on February 3/4, 2011
She scored 98 on Thursday and and 96 (second place) on Friday.
Nerve wracked (perhaps that should be "wrecked") progress
Bytown Dog Obedience Club, January 13, 2011 - Ottawa, ON
After the disappointments of PEI, handler nerves really took over and I completely missed a station in Boomer's first RA run of the day under judge Rod Beaudry - an automatic NQ.
Our afternoon run was almost as bad with two handler errors each resulting in a 10 point deduction. Fortunately, Boomer did a stirling job and only lost 4 points so we managed a second leg with a modest 76 (same judge, Rod Beaudry)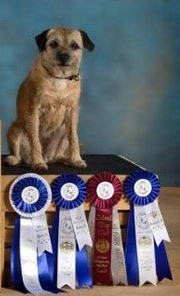 A new venue with mixed results
Boomer made her Canadian Rally debut at the Island Dog Club shows in PEI on October 29-31, 2010
Her first run was marred by the fact I had not heard the judge (Anne-Marie Leadbeater) say she wanted the change of pace before the signs but Boomer still qualified with a score of 87. Under the same judge in the afternoon she earned first place with a score of 96.
The following day she did two brilliant runs under judge Renee Morris with the judge and spectators applauding so imagine my horror when an NQ went up in the morning and again in the afternoon. This judge is a stickler for handler error - don't move your feet even slightly on a stationary exercise (not permitted in Advanced and Excellent but "judge's discretion" in Novice) - this apparently happened at three stations resulting in 10 point deductions, with the one point that Boomer lost - NQ. In the afternoon we apparently went the wrong side of the finish station resulting in a Station not attempted.
By the time I went in for Novice on Sunday morning I was a basket case - any notion of fun long gone. Thankfully judge Monica McKenzie - while being quite tough on the dogs - was looking for good teamwork and was very encouraging. Boomer finished her Rally Novice title with another 1st place and a score of 96.
In the afternoon I moved her up to Advanced and we squeaked through her first leg with a score of 75 (judge Monica McKenzie)
A little brag after a long hiatus
Boomer passed her ATTS Temperament Test on April 26, 2009 in Ballston Spa, NY. The test was hosted by "Out of the Pits" a pitbull welfare organisation. This brag benefits their cause.
Boomer developed a strong aversion to fireworks while we were in New Jersey last year so I knew the gunshot portion of the test would be difficult and she did react but recovered very nicely.
I work hard to convince my dogs that they do not have to deal with threats - that I will take care of any issues - of course, my intention being four-footed issues - it seems I may have gone a bit too far as when presented with the threatening stranger Boomer sort of gave him a look, turned round and sat next to me with her back to him as if to say - "your problem"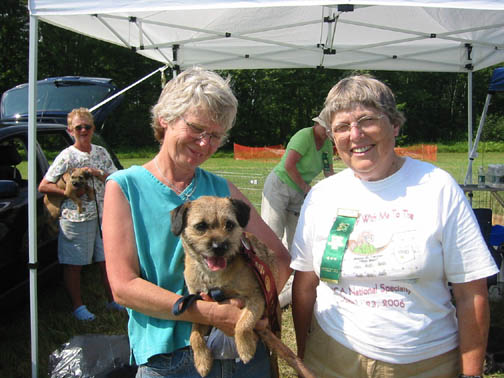 If you insist!!
Since she started running Master in the US and was reintroduced to field work, Boomer's enthusiasm for Senior has been less than stunning. Thankfully that is all behind her now. Although it was not a particularly brilliant performance, she did manage to qualify at the ECDC Earthdog Test in Fredericton on July 28, 2006 under Marg Pough to complete her Canadian Senior title.

Boomerang - Master of her trade!!
After blowing me off in Senior at the CKC ED Tests in Ontario in May - Boomer pulled out the stops to earn consecutive Master legs under judges Joe Schrimf and Carrie Hamilton respectively at the NJBEC and NBTC AKC ED Tests in Crosswicks NJ on June 3rd & 4th, 2006 to complete her AKC Master Earthdog Title.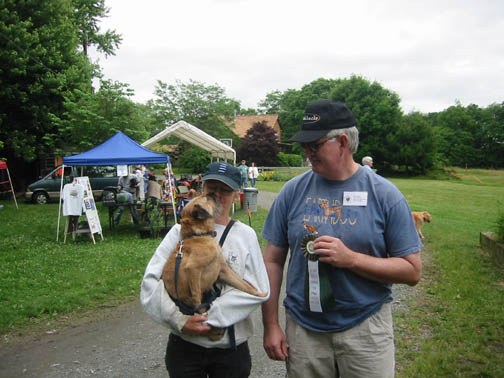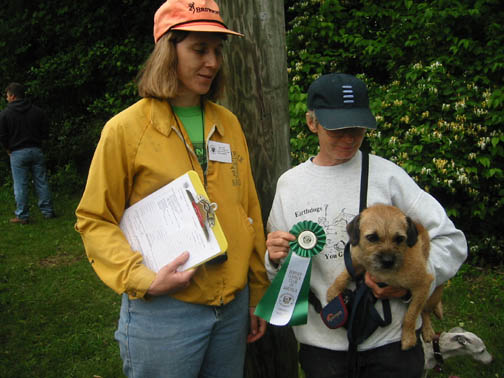 Boomer(Look out! Border coming through)rang!!
Boomer's Master brace mate at the National Earthdog Test (BTCA Sponsored) in Crosswicks New Jersey on October 10, 2005 was a neat Norfolk terrier. It was fascinating to watch their different hunting styles. At one point Booomer came off a track in the woods, realised the Norfolk was working a good trail through the meadow (in a nice methodical manner). Boomer raced over, blew by the Norfolk and picked up the same trail a few feet ahead. The look on the Norfolk's as she was rocked by the slipstream was priceless. Although it was not picture perfect, Boomer put in a good performance and Judge Blue Sandrock awarded her a second master leg.

Mastering the Roller
At her first two attempts at the AKC Master level in November 2004 and May 2005, Boomer got hung up at the roller obstacle (we won't mention the bunny detour), but she "got over it" [pun very much intended] at the Finger Lakes Test on July 24, 2005 to earn her first Master Leg under judge Jean Clark. Brace mate was none other than Marg Pough's Cady - an accomplished Master earthdog who also qualified in fine style.
Boomer returned to the CKC Earthdog scene in fine style at the Dachshund Club of Greater Ontario Tests on June 25th & 26th, 2005. On Saturday she was the only dog to qualify in Senior under Judge Marg Pough. On Sunday she also qualified under judge Kate Kenny - one of only two dogs to do so (Buddy Zeke was the other one).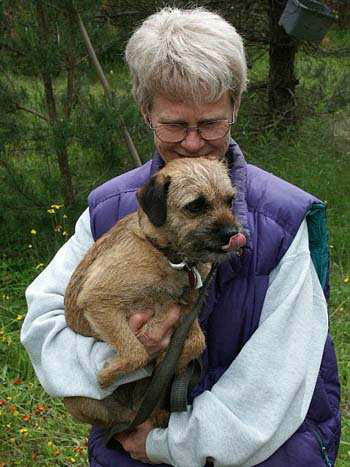 Boomer basically just "hung out" at the 2004 BTCA National Specialty though she did prevail upon Marg's generosity and kind eye to somehow sneak her way through her Canine Good Citizen Test!!
---
Boomerang returned to New Jersey to earn the first leg on her Senior Earthdog title at the NJBEC AKC Test November 01, 2003 - the following day, she earned her AWTA Certificate of Gameness.
She returned to New Jersey to finish her Senior Earthdog title by qualifying at the NJBE Test on June 5, 2004 (judge Stacey Samela) and the Dachshund Club of New Jersey on June 26, 2004 (judge Teddy Moritz).
In between time, she earned her CKC JE title by qualifying at the BTCO CKC Earthdog Test on May 24 (judge Marg Pough) and again at the DCGO CKC Earthdog Test on June 20, 2004 (Judge Trudy Kawami).
These brags will benefit Canadian Border Terrier Welfare
---
Boomerang earned the first leg of her AKC Junior Earthdog Title at the NBTC Trial on June 1st and the second at the Dachshund Club of New Jersey Trial on June 28th (photo left).
This brag will benefit Canadian Border Terrier Welfare