Am.Can.Ch. Lothlorien Coniston NFD FMX CG AM.RAE CGC AM.CD AM.ME CAN.JE CAN.RA NW3-Elite NW3-C NW3-V NW3-E NW3-I RATS TKN CA (Colin) (Jansim Pup-in-law/Grand-pup)
(proud owner - Donna S.)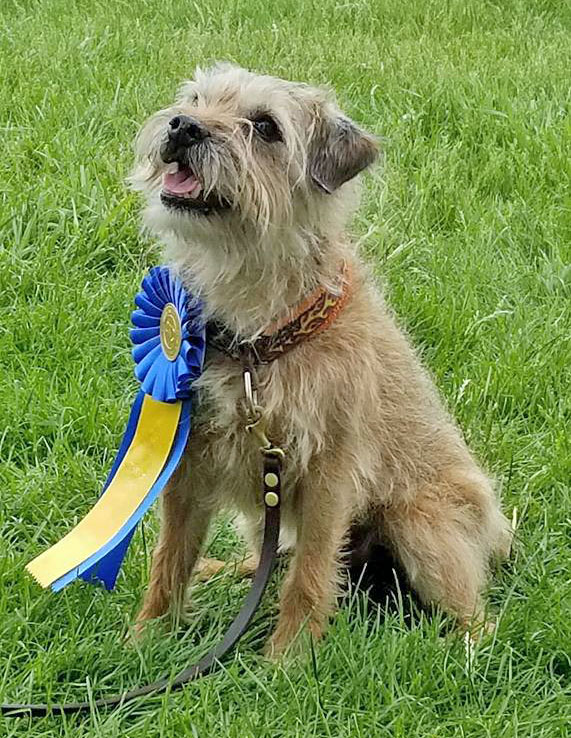 He may be a teenager but he can still give the youngsters a "run for their (or should that be Donna's) money"
May 4-6, - New Jersey
Colin coursed his way to his AKC Coursing Ability Title
Who says you can't teach an old[ish] dog New Tricks
November 11, 2017 - New Jersey
Colin easily earned his AKC Novice Trick Dog title
Border Terrier Club of America 2016 National Specialty success
Roberts Event Center, Wilmington, OH - June 13th-17th, 2016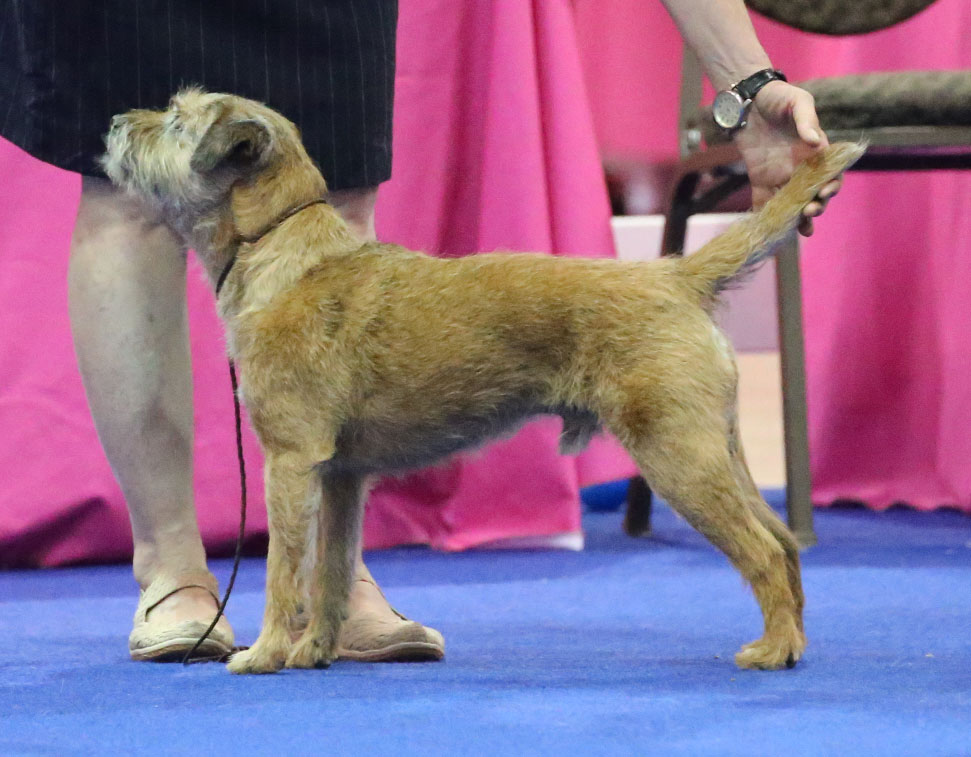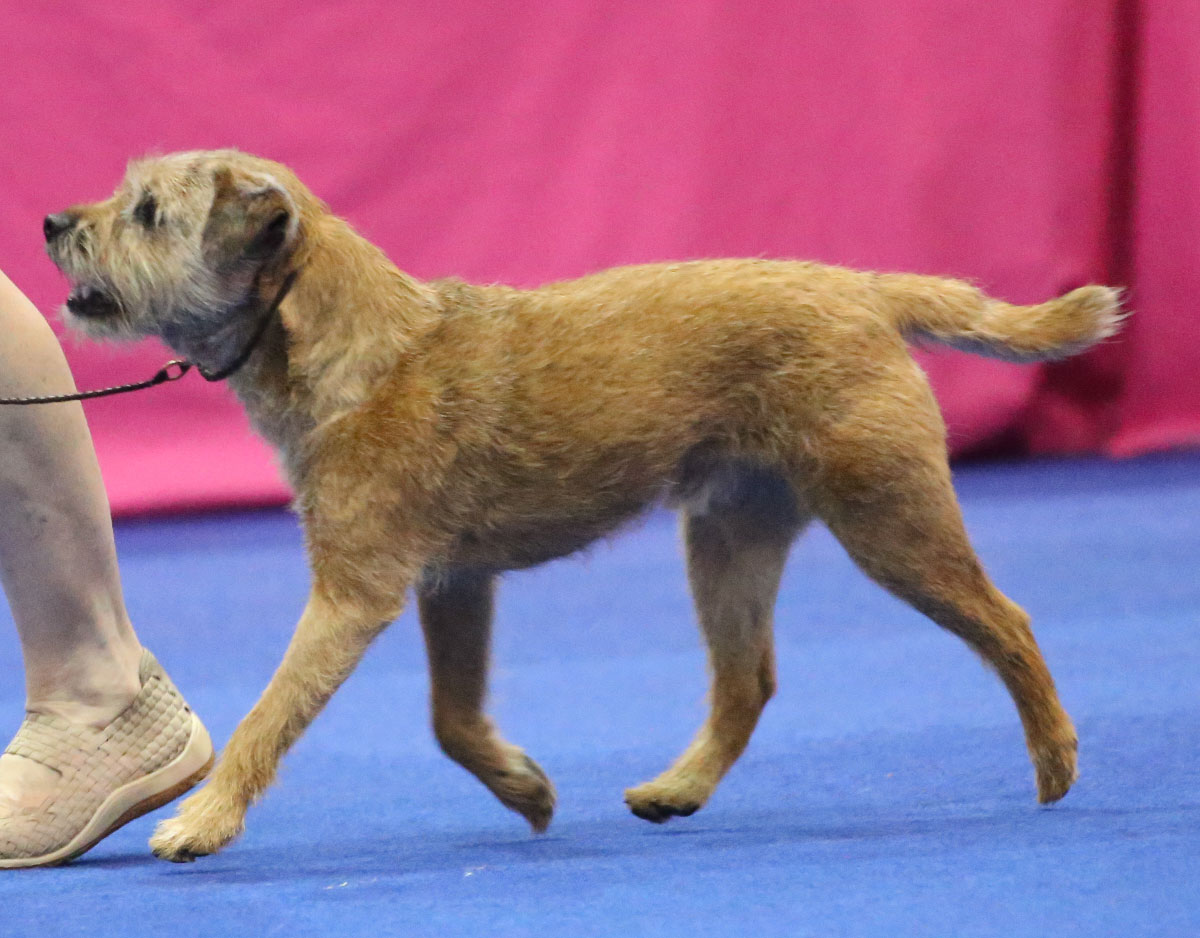 Despite being short on coat, Colin showed his way to a respectable 4th place finish in a competitive 10-13 Veteran Dog Class under breeder judge Patrick Glover
Elite Performance - 11 December 2015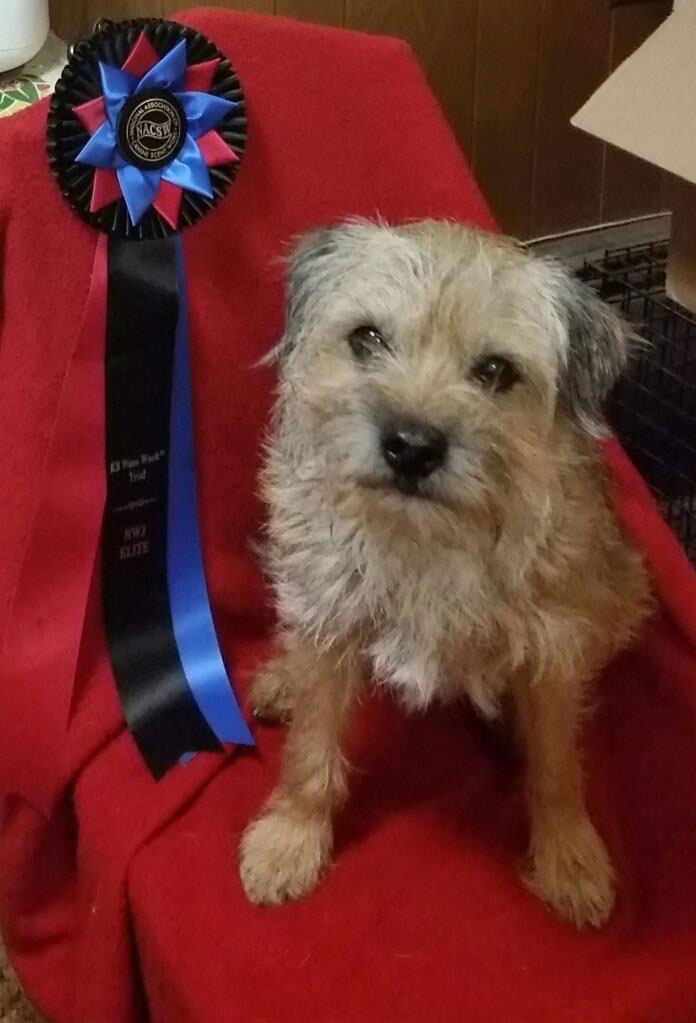 Donna's write up is the best way to do credit to Colin's achievement

" Friday was Colin's 12th birthday and on it he earned his Nosework 3 Elite Title.It was so great to have got it, especially on his birthday. He was really happy to be able to get out and do this. He loves nosework. Also, I swear I saw Colin's tail start wagging when Fells started whining in his crate because he was left there when we went to do the tests.

The host for the test was our own dog club, Oriole Dog Training Club. It was held at a YMCA camp in Worton, Maryland and the judges were two of my favorites. I wish that I could remember their names. They are both woman and relatively new as both had just done one weekend of these kind of tests before this, although both had been involved in tests of real working dogs. They are involved with bomb detection dogs in various areas around Maryland and have long lists of experiences despite not being that old.

Colin was not one of the fastest and we got a 1 point penalty for excessive scratching as Colin was trying to dig the hide out from under a radiator, but he was a solid steady working dog throughout and there was a lot of mention of how well I trusted him to just do his job. He's easy to trust as he doesn't indicate wrong. He might miss a hide occasionally, especially if it's well above his head or in an area that we forgot to check, but if he says it's there, it's there.

He also earned his NW3-I (Nosework 3 Interiors) which you get once you have passed that element three times. He had already earned the other three.

NW3-C Title: 2015-01-25 Location=Prince William County,VA
NW3-E Title: 2015-01-25 Location=Prince William County,VA
NW3-I Title: 2015-12-11 Location=Worton,MD
NW3-V Title: 2015-04-10 Location=Stevensville,MD

Hmmm, Colin gets his NW3-I meaning he passed Interiors three times on the same day that he got his NW3-Elite which means he passed all elements that day for the third time. It's pretty easy to see where our weakness is. Although interiors is pretty difficult with three different rooms, each their own search. that might have hides or not. "
Excellent Achievement - 21 August 2015
Colin earned his 10th and final RAE leg by qualifying in Rally Excellent and Advanced at the Oriole Dog Training Club obedience and rally trial under judge Linda Moore.
He earned third place in his excellent run.
In both runs he got 95 out of 100.
Border Terrier Canada 2015 National Specialty related events
Border Terrier Canada CKC Earthdog Tests - July 30th, 2015, Okotoks, Alberta
Colin earned his second Senior ED Leg with a flawless performance under judge Anna Robaczewski, we certainly hope he doesn't take any notice of Donna's comment:
"with his first [senior leg] earned in 2010, maybe he'll get his title when he's 16."
Alberta Kennel Club Rally - July 31st - August 3rd, 2015, Spruce Meadows, Alberta
Colin completed his CKC Rally Advanced Title and earned two legs towards his CKC Rally Excellent Title with qualifying in three out three trials under judges Pearl Fabbro, Mike Calhoun and Sandy Briggs
April and June 13th, 2015 - Yes he Can Dance!
Donna and Colin took time out on their April "Strip Colin" trip to Montreal to record their "He's a Tramp" (Peggy Lee) MDSA freestyle routine.
The results came out in June when The MDSA Executive Board announced the teams who received a qualifying score in the April 2015 video freestyle event (event number: 04201529V).
Donna and Colin were amongst the qualifiers, this gives Colin his Novice Freestyle Dog (NFD) title.

On June 13, 2015 they went to a live performance event with My Way Canine Freestyle
Colin earned a Hero leg for "Make Your Own Kind of Music" by Cass Elliot (Hero is the division for dogs 10+ years).
Colin also won the one of the Wow! awards. There were 4 judges at this event. All the competitors were divided and put into 4 equal groups, with each group being judged by one of the judges.
This allows the judges to compete, too. In addition to judging the competitors, each judge could choose one of the performances they were judging as the winner of their Wow! award.
This performance stands out to the judge as one that he/she really liked.
There were probably about 40 performances in total, so Colin stood out among the 10 or so in his group to win this award.
Oriole Dog Training Club NACSW Nosework Trial - 10 April 2015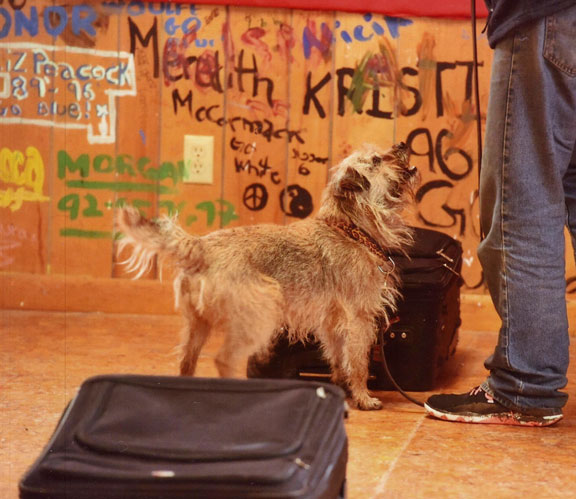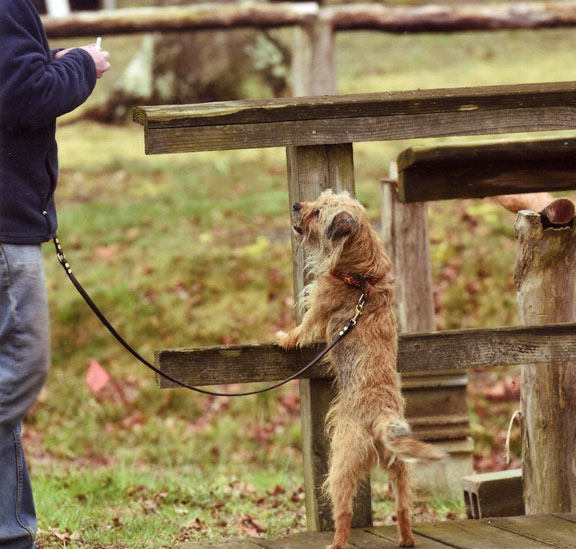 Colin earned his second NW3 title. He needs to earn the NW3 title three times to get his NW3 Elite title.
Starting with Interiors, he did a wonderful job, but unfortunately his handler dropped some food earning a minor fault, however, he still passed.
Then he did three virtually flawless legs in Container, Exterior, and Vehicles in that order.
He found everything quickly, stayed focused, and was very clear with his signals.
He earned a pronounced in all three elements and won third place in Containers.
The container distraction was a bit of sausage and he didn't even pause at it.
He also earned his NW3-V title.
March 14, 2015 - So You Think You Can Dance!
Donna's dogs' talents are not limited to the formal events we are most familiar with but they also venture into the creative.

At a Freestyle Live Event (you go and have one chance to do the dance correctly) this Sarurday Colin and Donna performed to "He's a Tramp" from Lady and the Tramp.
Colin did a really good job so earned a leg in "Hero".
They offer two veteran categories, Veteran for dogs 7-10 years and Hero for dogs 10+ years.
January 25, 2015 - a No[s]eworthy achievement and nice explanation
At the NW3 level a few more titles are available for the dogs to get. The dogs can compete at this level until they have earned the NW3 title three times which gets them the NW3 elite title. These titles are also available (from the NACSW website):
NW3 Element Titles are achievable for all four elements of competition:
NW3-C (NW3 Container search)
NW3-I (NW3 Interior search)
NW3-E (NW3 Exterior search)
NW3-V (NW3 Vehicle search)

These titles are for successfully passing an NW3 element at each of three different trials. They are not the equivalent of the NW3 title, which requires all four elements to be successfully passed at one trial. NW3 Element titles may be achieved individually and/or before achieving the NW3 title.

At this last trial, the third that Colin has competed in, he earned the NW3-C and the NW3-E titles.
September 28, 2014 -
Colin earned his NW3 (Nosework 3) title. He is only the third Border Terrier to ever earn the title and did so on his first try!
An amazing feat in that he and his son, both earned this prestigous title on their first attempt!
| | | | |
| --- | --- | --- | --- |
| The vehicle Search | "I don't think it's here" | "What about here?" | "Got it, mom" |
| Exteriors - a likely spot | "Yep, that's affirmative" | On to containers | "Told you so" |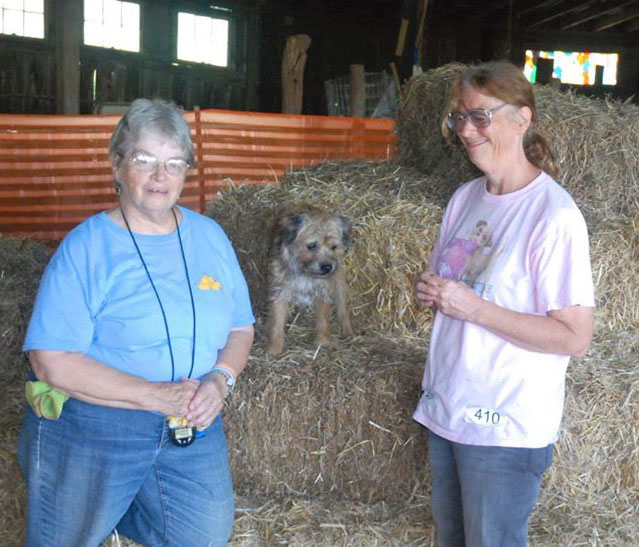 September 20-21, 2014 - Barnhunt at Spring Cove Farm, just across the Bay Bridge on the Eastern shore of Maryland.
Colin earned his second and third Barnhunt Senior legs both with First Place finishes for his RATS title under judge Judy Todd
Border Terrier Canada 2014 National Specialty related events
Erie Shores Kennel Club Rally Trials - June 6th - 8th, 2014

Colin earned his CKC Rally Novice Title and two legs towards his CKC Rally Advanced Title with five qualifying rounds under judges Sharon Smith, Marie Sawford and Mike Calhoun with scores of 90, 100, 96 (Novice) and 84, 73 (Advanced)
Border Terrier Club of America Specialty, Purina Farms, Gray Summit, MO - May 18-22, 2014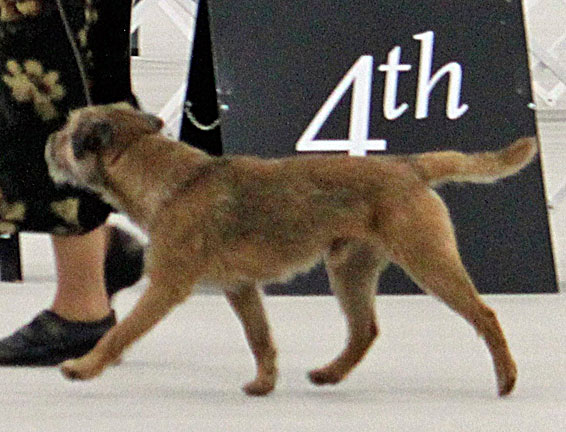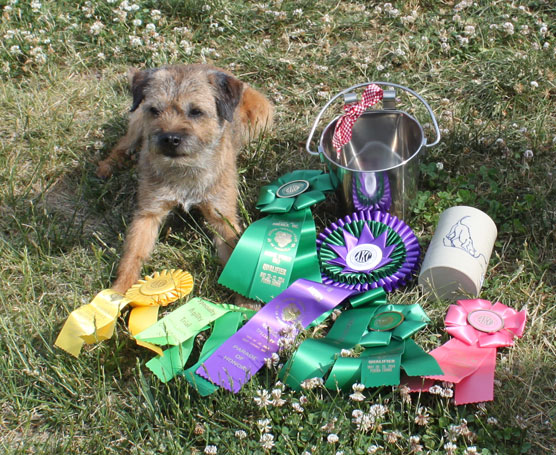 May 19th, Monday -- Agility Trial
Colin earned a Novice JWW leg with a 3rd place finish (Judge James Primmer)

May 20th, Tuesday -- Obedience/Rally/Sweepstakes

Colin earned his ninth RAE leg; qualifying in Rally Advanced B with 90 and in Rally Excellent B with 78 (hey, that's 8 more points that he needed - don't knock it) - (Judge Ginger Kinion)

Colin's team, (The Strippers) which also included Tumnus, won first place in team obedience despite the fact that Colin didn't sit (well except for the time that he needed to scratch).

May 22nd, 2nd Day Regular Conformation

Colin won a strong Veteran 10-13 Dog Class under long time breeder judge Ruth Ann Naun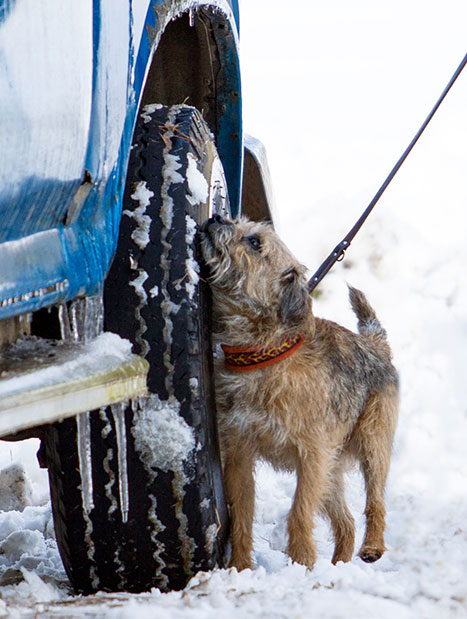 Nosing to Success - December 15, 2013 - New Jersey
In Donna's words

" The December trial in NJ was the first Nosework test that we have managed to get in since July and just Colin got in.
For a real difference from any other test I have ever attended, Colin was the second dog to run in three of the four tests. Usually we are one of the last to run.
The test started about an hour later than it was supposed to. Things were a little confusing both because they were very short on volunteers and because there had been a large turnover in who was running because people had dropped out at the last minute and others, from the waitlist, had been told that they could run if they chose to. We still had only 27 dogs running out of an inital field of 34 dogs for the Sunday NW2 test. The really nasty weather palyed a significant role.
We did the exhibitor walkthrough slipping and sliding some on the wet snow and ice, although it wasn't as bad as it could have been.
We had the option of bringing the dogs inside, but I decided that Colin would be more settled and just as warm staying in his crate in the car. That worked out fine for him.
That morning, Colin's group was to do exteriors and vehicles while the other group did interiors and then were to switch.
As I said, we were second, so once judging started we got to go. Exterior was a large cement porch of a house and then onto a section of the ground next to the house. It had one hide. It was directly in front of where we started underneath a wooden ramp, so the dogs could reach (put their nose on) the odor. Colin found it and I called alert in a bit more than 11 seconds. From the discussion at the end, all the dogs found this odor quickly, and the hard part of the test was the handlers believing it was that easy and believing their dog.
We immediately went to vehicles which had two hides. Colin found both odors in a reasonable amount of time. It was in the trailer hitch on two of the trucks. Again, some handlers didn't believe that the officials would put both of the hides in trailer hitches and weren't believing their dogs. These were definitely the easiest hides.
After a bit of a wait, the other group had finished interior hides, but our group was only halfway through the exteriors/vehicles. They decided to start our group in interiors anyway, so Colin was up again. This test had two hides in the first room and one hide in a second room. The dog could search off lead. Colin started the first room and found the first hide quickly in a chair. The second hide was in a cabinet so there wasn't one specific source, but a general along the edge of the cabinet door odor cloud. I finally figured out what Colin was telling me and we got that one just in time. Room one done! Then on to room two.
Colin found the one odor quite quickly and we were done.
They finished the interior test with all the dogs, the judges ate a late lunch and then it was time for the containers, two hides, 3 minutes. Colin was the second dog in.
When we did the walk through I noticed the upright rolling luggage, very similar to what had caused us to fail Colin's very first NW2 try and vowed to make sure we checked it out.
So we started in and Colin quickly found odor. I timidly called alert hoping that it wasn't food. It wasn't. First hide found. We searched all the luggage. I asked Colin to check on top of the rolling luggage, but it kept falling down every time he touched it and I kept resetting it so we both found it confusing.
We checked every single piece of luggage out there and it wasn't in any of the others, so I thought, "Not again! We can't be tricked by the same piece of luggage twice!" and went back to the rolling one. I let Colin knock it over and it definitely was in the top handle as it had been in the other test. We called it. Two minutes and 52 seconds. Whew!!!"
His kind of "Nosework" Virginia Beach Barnhunt Test, Cheswood Farm, Chesapeake, VA - November 09-10, 2013
In Donna's words

"We went to Cheswood Farm in Chesapeake, VA for a weekend of barnhunts. Two test per day for two days. There were three Border Terriers and I had two of them.

The tests were run in this order:
Test #1 Intro
Test #2 Intro
Test #1 Novice
Test #2 Novice
lunch break
Test #1 Open (13 dogs)
Test #1 Senior (2 dogs)
Test #2 Open (15 dogs including two dogs that got their titles in Test #1 Novice and so moved up and didn't run in Test #2 Novice)
Test #2 Senior (2 dogs)

There were three setups. One was the Intro area. One was the Novice area. The third was where Open and Senior were run.

Colin ran in the first group for his RATO runs. He was the last (5th) dog in that group.
In the first test he did a terrific job and slammed the tubes through the bales. He won first place in his height.
No small dogs qualified. One large dog qualified and got a faster time than Colin. Colin took that as a challenge.
In the second test he was even more eager, moved quicker, and got first place among all dogs. That was hist third qualifying run, so he's now Colin RATO!

On Sunday, Colin was moved up to Senior. He did really well.
He quickly found and indicated all four rat tubes and incidentally did the climb.
He still needed to do the tunnel. I told him to go through and indicated where the opening had been in Open both days and Senior the day before.
It wasn't an opening any longer though. Colin didn't let this hinder him and jammed himself in between two bales and forced himself into the middle of the tunnel and ran out.
Personally I think that this was a lot more difficult than going through the normal entrance, but it still didn't count.
I sent him back through the tunnel and he earned his first RATS leg. "
NJ Beanfield Earthdogs Barnhunt Test - November 03, 2013
In Donna's words

"Colin was very eager to do his run in the RATO class. He had been waiting all day and then Fells went out and ran while Colin was left in the crate! He wasn't nearly as focused as Fells, but he was speedy and driven. It appeared that he found all the tubes without stopping and then attacked the first and when that was removed went directly to the second and attacked that one. He qualified for his first RATO leg and got third place in the class."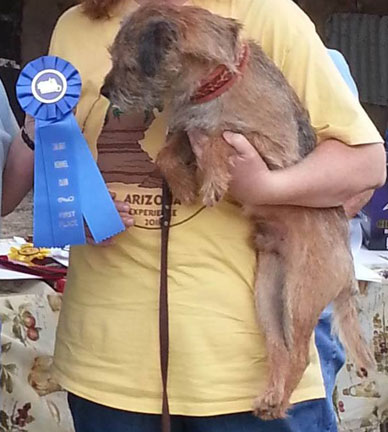 Barn Hunt - the continuing story - September 21-22, 2013
Colin completed his RATI and RATN titles. In RATN, he earned a third place and a first place in his height division (medium). The test was held at Marion Shaw's house on the Eastern Shore of Maryland

In Donna's words

"In the RATI test on Saturday Colin just didn't believe that anyone would put the rats right out in the open and so looked around a bit before realizing where they were and then attacking the tube.
In RATN in the morning, Colin looked around for a bit and then attacked the tube. Colin qualified and took third place in the medium class. There were about 30 dogs entered; about 15 small, 10 medium, and 5 large.
In RATN in the afternoon, Colin was really fun and raced through the tunnel, over the bale, and then slammed into the rat tube driving it through the hay bale and into the fence. This was a larger test, about 50 dogs entered, about 25 small, 15 medium, and 10 large. Colin took first place in medium."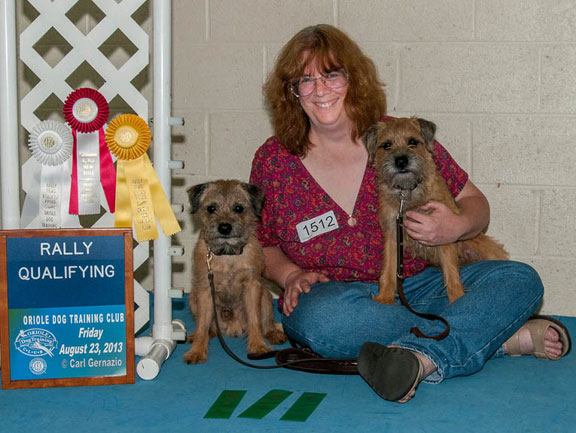 Oriole Dog Training Club, Baltimore, MD, August 23, 2013
Eight down, two to go (according to AKC Records)

Colin qualified with a 97 in Advanced B and a 98 and third place in Excellent B under judge Jeffrey Showman.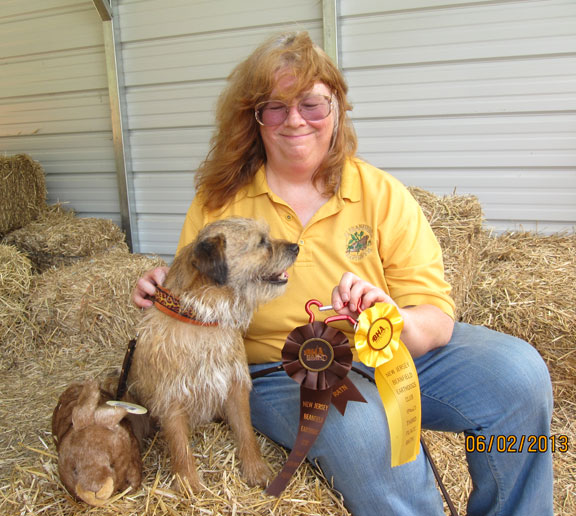 Barn Hunt Debut - Sunday, 02 June 2013
Colin qualified in Barnhunt RATN also earning a third place in his height division (medium). The test was held at Village Green Farm, Crosswicks, NJ and the judge was Susan Sparks

This brag will benefit Kiva
Freestyle Feedback
Colin's (and Donna's) submission of their routine danced to "Tequila" by The Champs was judged as qualifying for his first leg in Novice Freestyle with Musical Dog Sports Association (MDSA).

This brag will benefit Kiva
Oriole Dog Training Club, Baltimore, MD, August 24, 2012
Colin added another RAE Leg towards his Rally Advanced Excellent Title at Donna's own club trials.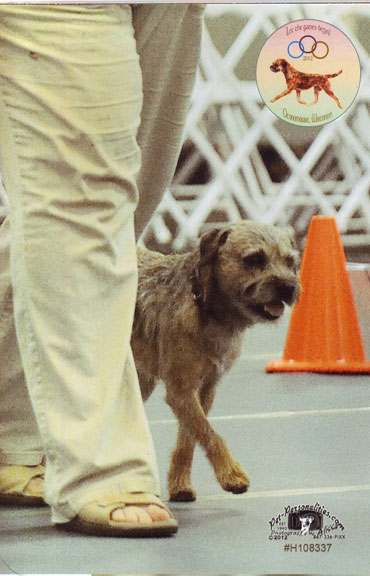 2012 BTCA Specialty Achievements,
Oconomowoc WI, June 10-14, 2012
Colin demonstrated that Donna's perserverence was worthwhile by earning his first leg in Open Obedience. He alse earned another RAE leg by qualifying in Rally Advanced and Rally Excellent
Half Way There

Colin earned his 5th RAE leg with a 87 in Advanced and a 96 in Excellent at the Oriole Dog Training Club's Spring Obedience trial (his home club) on May 27, 2011
The Nose Knows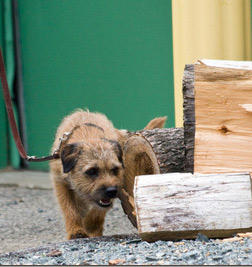 On 14 March 2011 Colin earned his NW1 title in the first nosework trial ever held outside of California and Washington State. It was in the Norfolk County Agricultural High School in Walpole, Mass. The weather was nice for the testing and they explained that Colin and I'd do two tests in the morning, the outside ones, exterior search and car search, and two inside ones in the afternoon, container search and interior search. Each of theses tests had a different judge and all had to be passed on the same day for us to title.

Colin made it easy. He didn't know how anxious I was and that I didn't think he was ready for the tests. He clearly marked the spots in the exterior and car searches, and went right to the box and stood on it for the container search. The interior search was harder for him and required me to shut up, not try to direct him or distract him, and be patient until he got it located. I had been told over and over that the dog usually did much better in these tests than the handler. The dog has the nose and knows what he's doing and that you must let the dog work. But it's very hard to keep still and not think that you know best. Luckily, I managed it and so he passed that one too. He got fourth place in the test of the 40 that entered, 37 that ran, and 11 that qualified.

Donna

We are especially proud of Colin as he is the first and currently only Border Terrier to have earned an NW1 and the first and only dog of any breed living in Maryland with this title. This brag benefits the Kate J Seemann - BTCA Donor Advised Fund
Another double Q closer
On April 24, 2011 at the Baltimore County Kennel Club under Judge: Mrs. Kathy McCoubrey, Colin qualified in Rally Advance and Rally Excellent to earn another RAE leg
Going Wild in Wildwood....
.....At the Sand & Sea Kennel Club Rally Trials on February 3rd and 4th, 2011.
Colin earned two more RAE legs under Nancy Withers
Scores were 96/93 and 100/97
Needless to say that perfect score earned him first place in Rally Advanced and his 97 also netted him second place in Excellent on the same day
An early Christmas Present - times two
Oriole Dog Training Club's winter obedience weekend started with a Friday night rally trial on December 17, 2010
Colin earned the first leg toward his RAE.
He qualifyied in Advanced B, but not with a great score - handler error, but he then qualified in Excellent B with a 96 and fourth place in the class. He now has one leg toward his RAE if I should decide to pursue it. He got a nice Q biscuit, which was broken in half and shared with Free. He wasn't happy about this.
Just one run


That's all it took for Colin to take his Flyball Points total to the level required for his FMX title. This happened on home turf on October 30, 2010 at the No Speed Limit's Monster Bash, Howard County Fairgrounds (West Friendship MD)
2010 Border Terrier Canada National Specialty Weekend Success - Jerseyville ON - June 27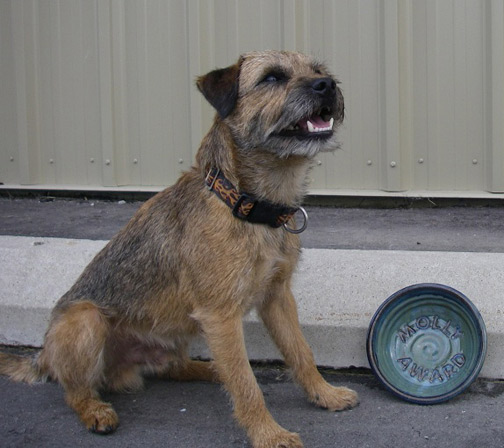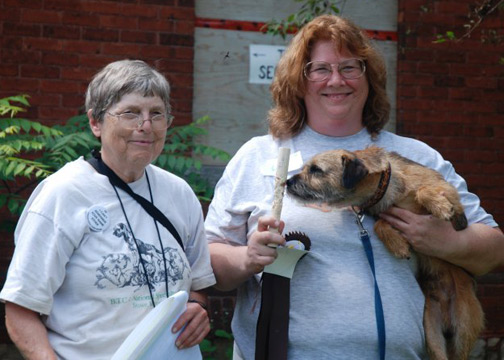 Colin decided to get his act together and earn his first CKC Senior Earthdog leg at the BTC ED Test under judge Marg Pough. He was also awarded "Winners Dog" in the newly offered Border Terrier Canada "Molly" award
2009 BTCA Specialty Achievements - September 27-October 01, 2009 - Centreville, MD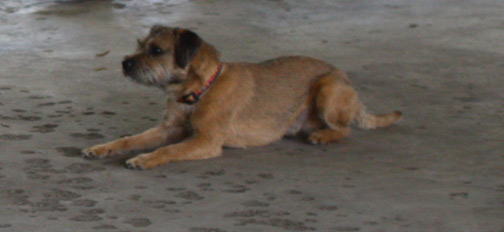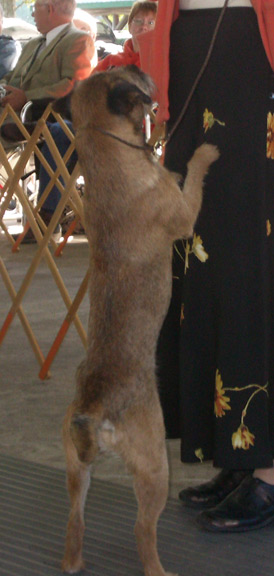 Colin was a member (and the most distracted one at that) of the Second Place Team in Obedience under judges Janet Lewis and Larry Wilson.

He also made the first cut in Best of Breed despite his lack of coat (which came in beautifully three weeks after the Specialty)

Colin also had "fun" in Earthdog and regular Obedience
Just Call Me "Master" of My Trade!!
From Donna on September 19, 2009 [edited]

Well we went to the Scottie earthdog trial today in the eastern shore of Maryland, where the BTCA test will be in just over a week. Colin was partnered with another intact male, a Norwich Terrier, Sam, age 8. On lead, both dogs were wild to get loose and Joe [Mazur] made a comment that they were likely to race full speed to the den. They didn't. Colin and Sam had good runs. They worked very well in the field and stayed under control, yet were actively hunting a large area. Both marked the den well (I was so glad to see Colin do a really nice mark), got to the quarry in time, worked it well, and were extracted quickly. Colin's one problem in this run was that he was so excited that he wasn't thinking (or using his nose) in the tunnel and it took him a bit to navigate it; 84 seconds in fact. Other than that he did everything very very well. So three legs down and one to go.
...and on September 20, 2009

Day 2 was a whole lot like day 1. Colin qualified for his fourth leg under Randy Eltringham. He did a good job and was very responsive to my call. His mark was okay. He worked well, was easy to take out of the tunnel, and did very good honouring. Just an all around good boy.
A Real Working Guy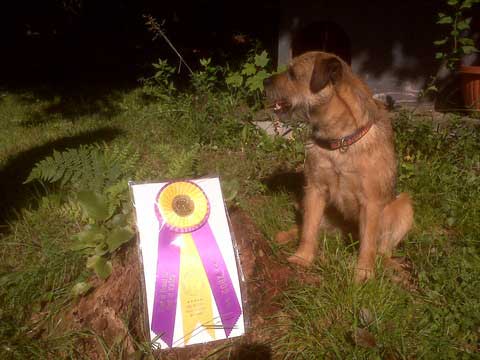 Making his first show ring appearance since taking the breed fron the Working Dog Class in February 2008, Colin was once again awarded Breed from the Working Class, this time by breeder Judge Patrck Glover at the Woodstock Dog Club Show in VT July, 10, 2009

this brag benefits The Joseph Lentz Fund for Pediatric Brain Cancer Research
Demonstrating he is not just a pretty face, Colin also completed his Rally Excellent title on the Green Mountain Circuit, qualifying under Mike Calhoun on Saturday (Champlain Valley KC) and Catherine Thompson on Sunday (Green Mountain DC)
Half Way There!!

From Donna on May 09, 2009

Today at the Scottish Terrier Club earthdog trial (at the same site which will be used for the 2009 specialty), Colin got his first ME leg! The judge was Sharon Yon. Colin ran braced with one of Pat Rock's Lakelands and they both had wonderful runs ending with two qualifying scores.

and on May 10, 2009

Colin got his second leg under Lynn Stonesifer on May 10, 2009. He was in the first brace and paired with an eager Fox Terrier bitch doing Master for the first time. He did a very good job.



Congratulations to Colin, following in some very illustrious footsteps
Colin earns his Flyball Master title April 05, 2009
Donna sums it up nicely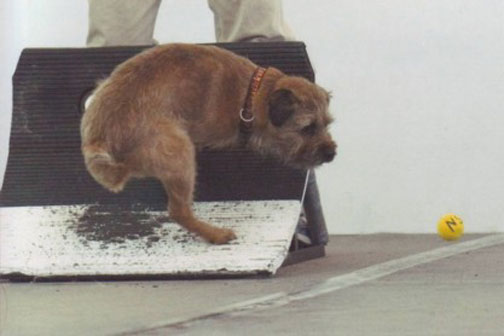 Two weekends ago Colin started his run for the FM. Both weekends, he was put on a team with fairly consistent large dogs and despite his sometimes bobbling the ball when trying to catch it from the box, he did very well! He was really into competing, anxiously pulling to go down the lane as soon as the dogs started running. He really tried to do the best that he could. He stayed focused on the game and on what he was supposed to do. We tried various treats to see if we could get him coming back to me just a bit faster. Through the two weekends his treats on returning (in no particular order) were: - string cheese
- chedder cheese
- american cheese
- sausage
- scrambled egg
- fried egg
- hard boiled egg
- ham
- turkey
- chicken (with some sort of cheese sauce)
- steak
- a toy "road-killed" skunk
The various eggs seemed to be particular favorites, but he enjoyed them all. He ran. He barked. He leaped for his treats and rolled around on the ground tugging the toy skunk. He really enjoyed himself the whole time.
Agile and active....
In Donna's words

Colin, Free, and I went to an AKC agility trial this weekend. Only standard and JWW were offered. Free came close with her JWW run. She was 10 seconds under time, but had a refusal when the off-course tunnel was just too tempting to resist and she almost ran into it.
Colin got his first Novice Standard Qualifying run! He also got one refusal, but he is allowed. The judge was Bob Jeffers from Tampa, FL.
Both judges complemented me on my enthusiastic running dogs.
Colin's perspective

It turns out that if you get an NA leg, you also get a Q biscuit. It's in the shape of a Q and very yummy. You might not believe this, but I had to give HALF of MY Q biscuit to Free. I won it. She didn't. Yet she got HALF of it. As we were eating them in our side by side crates, I told her that she should have earned her own. She told me that I should be happy that she only got half, if she could reach me, I wouldn't have gotten any. ::sigh::
Once again, determined not to be out done....
...this time by Uncle Gunter.

Colin must have heard through dog vine about Gunter's success so he also got his act together to earn a third Senior ED leg, in his case for his AKC SE title at the the Scottish Terrier Club of DC earthdog trial in Queenstown, MD on May 11, 2008 (judge Sharon Yon)
"Working Class" and Proud of it at the 2008 Cabin Fever Weekend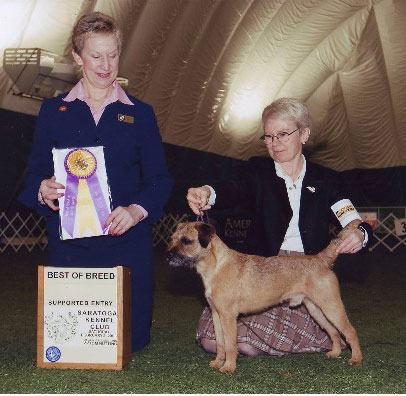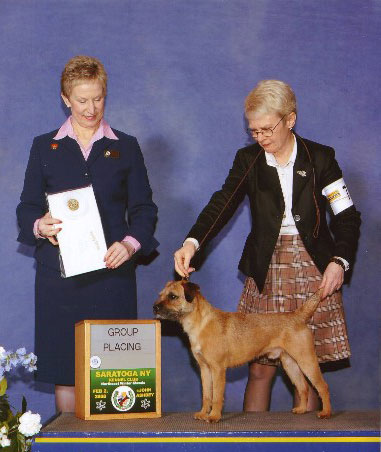 Our decision to support the Working Class at the Saratoga Kennel Club BTCA supported entry show in Queensbury NY on Feb 02, 2008 reaped unexpected dividends when judge Linda More selected Colin as her first place Working Dog then put him up for Best of Breed over an entry of 49 and topped that off with a Group 4th in very strong competition.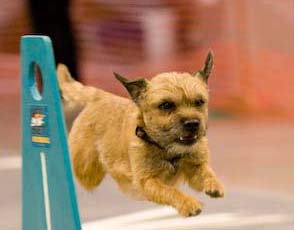 Gold in the pan, now lets get creative!!!
In Donna's words [edited for flow]

Well we all went to a flyball tournament this weekend (Nov 17-18, 2007). Colin ran a little more than half a spot and did a very good job on Saturday running in 14 heats.

On Sunday he had 10 heats to run. The first 8 were nicely done and he earned enough points to get to his FDCh-G (Flyball Dog Champion Gold; 2500 points) title. About half of his runs were under 7 seconds which is quite good for Colin.

On the 9th heat though, Colin ran up, grabbed his ball and turning noticed that the box in the other lane also had a ball in it. He seemed to think and decide that the other ball was better than his ball and he dashed over and grabbed it. The dog in the other lane, a JRT cross, who had been sent to that ball, was surprised and not particularly happy about it, but sadly watched Colin run away with his ball.

Colin was caught, told no, and his prize was taken. Then he was returned to the start, given no treats, and told to focus on getting HIS ball and bringing it back. The JRT was allowed to run up and back before the next heat to show him that he could now do it without another dog stealing his ball and he was happy again.

The next heat, Colin's last for the day, was now run. The Red Devil Dog did it again! He grabbed his ball, looked at the other box, thought about it, and then dashed over and snagged the other ball just before the JRT reached it. He was picked up, put back into his crate and given no treats, but his tail was wagging the whole time.

We'll have to work on this.
2007 BTCA National Specialty successes
Colin qualified in Novice B at the Specialty Obedience Trial (September 19th) and might have done well in Rally had been entered in the right class !!!
A casual qualifier
Once again while some of the gang were "earthdogging" it, Colin was busy elsewhere

Colin earned his first AKC Excellent Rally leg under judge Ms Diane Stout at the Oriole Dog Training Club obedience trial on August 26, 2007 with a score of 94. Our only bobble was with the moving stand. He did very well overall and I'm very proud of him.

Donna
Another discipline, another title
In Donna's words

Well, while some of the gang were partying in NH & VT, Colin and I went to a local obedience trial on July 14-15, 2007. We did Rally Advanced both days. We had to enter Advanced B this time, rather than Advanced A, because Colin has a CD now.

On Saturday, Colin earned his 2nd RA leg under judge Mr. Richard A. Strong. He was fairly distracted, but held it together long enough to score an 81 (out of 100). After his run (luckily After) I was sitting with a friend when Colin started to go nuts over her socks. The more he sniffed them, the wilder he got. She said, "I don't know what I would have gotten on my socks....except for I do have a bitch in heat at home. And you know what, my two boys who were neutered at 6 months are going nuts over her and they've never reacted to any other bitch in heat before." Well add Colin to her fan club! He spent the rest of the time we were in the building searching for that bitch he was smelling. He seemed to know that the person wasn't the original source of the smell and assumed that the bitch had to be around somewhere close.

On Sunday I was careful to bring Colin back to where we had been sitting on Saturday and no smell was there or anywhere in the building. My friend said that she was very careful to put on just cleaned clothes head to toe before she left the house and not to walk around her house in her socks. It seemed to work as Colin did not find her interesting today. The course was particularly interesting as Advanced is off leash and right in the middle of the course they had two dog food bowls filled with cute stuffed animals. There were a few Goldens in Advanced A that spent the whole time they were out there craning their necks to keep the toys in view no matter where they were. The second to last obstacle was a figure 8 right next to the bowls. A couple of dogs couldn't resist and grabbed a toy for themselves. Colin didn't seem to see the bowls and toys at all through the course and when we started the figure 8 walked right next to them without even looking. So I relaxed and as we continued the figure 8, of course he decided to go put his nose into one of the bowls. It was a quick sniff, but it and a few other bobbles caused him to get a 91. He had a beautiful run for the most part though. So that was his third leg, this one under Mrs. Margery A. West, and Colin has his AKC Rally Advanced (RA) title.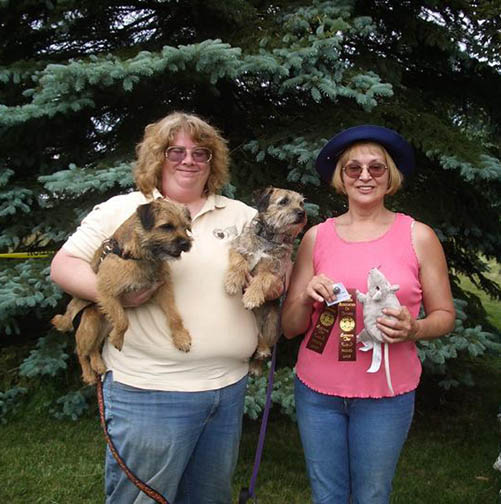 Front runner
Colin (pictured on Donna's left) was finally able to beat his sisters to the punch by completing his CKC Junior Earthdog Title at the Cairn Terrier Association of Ontario ED Test on June 23, 2007 in Moffat, Ontario (Judge Jean Callens)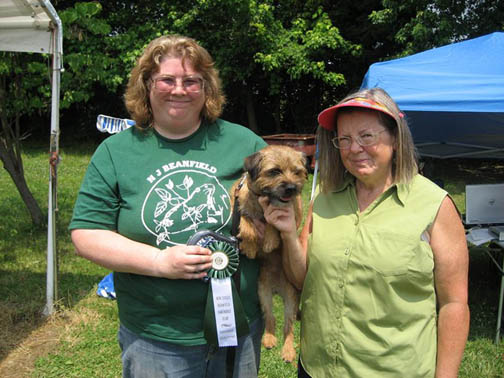 Not to be outdone.....
Running after his sisters may have put the pressure on, because Colin finally worked out that coming out of the Den after the quarry leaves is definitely desirable.
Consequently he earned the first two legs towards his AKC Senior Earthdog title at the New Jersey Beanfield Earthdog Club and Northeast Border Terrier Club ED tests in Crosswicks NJ on June 2, 2007 and June 3, 2007 respectively. (Judges Jean Clark and Blue Sandrock).
"Shades of Uncle Gunter"
It wasn't pretty, but..............
in Donna's words

"Well Colin and I just got back from the Northeast Maryland Kennel Club Obedience Trial. Colin got his third and last Novice B leg under judge Mr. Jeffrey B. Showman. Colin was not very enthusiastic today and really didn't want to sit during his moving exercises. His score was a 175 1/2, which is enough to pass. I told him that if he did his sit and down stays well, then he could stay home on Sunday, or maybe even take a nice walk along the bike path rather than going to another obedience trial. He did, so we're going to skip the trial I signed up for on Sunday."
"There was a Bernese Mountain dog in Colin's group stays that was a bit scary to me. The Berner was on the end of the line, then a Golden named Jackson, then Colin. Jackson takes class with Colin and has a serious obedience handler owner. She was a little annoyed that the Berner's behavior and light growls caused her to have to give Jackson another sit command (and 5 points off) as we all left our dogs. He didn't like being next to that dog. Because of it, Jackson only got a 190. If Jackson hadn't been there, I don't know that I would have left Colin next to that dog."
"Thanks Jackson! Yeah Colin! :)"
Donna
"A leg in Each Ring"
Well not quite but..............
...Donna was wondering if it was even worth going to the Dog Owner's Training Club of Maryland AKC Obedience (Novice B) and Rally (Adv) Test on March 18, 2007 that she had signed up for.
As Donna said:

Although Colin seems to be getting better and better at home and at class, he seems to be getting worse everywhere else. He has perfected the blank, "I have no idea what you're talking about" look.

Fortunately she received lots of encouragement from fellow JJ supporters and was able to give us jubilant news on Sunday evening

We Qualified in both! So Colin now has a second Novice obedience leg and a first advanced rally leg. It was a long tiring day. We waited and waited until it looked like both classes were going to occur right at the same time. Then the Novice judge announced that she was breaking for lunch, just before Colin's run. So rally was first.
Colin started wild and it was scary, but the longer we were out there, the more he focused. I just kept moving quickly and happily, challenging him to keep up with my pace. He enjoys that. It means no redoing after mistakes, which is allowed in rally, but just going on. Afterward the judge told me that if we had gone back and repeated one of the signs (and done it correctly the second time), we would have lost only 3 points rather than 10. I nodded, but I knew that already and had done it deliberately. It was one of Colin's least favorite activities and he had done it quite well. The mistake was due to a miscommunication rather than reluctance on his part. I did not want to make him repeat it so I had gone on. He passed with an 83, which is a fine score as far as I'm concerned. I was happy with Colin's attention at the end and would have been happy even if we had not qualified today. Cheryl Pratt was the judge.
Novice went fine too with just a few bobbles. We scored 182. Kathleen Walker was the judge. She had a lot of dogs to do, with 52 Novice B entries, and kept a happy upbeat attitude in the ring throughout. Twice after our run she made a point to tell me how much she liked my dog and his run.
I am so happy with Colin. Everything went so well.
Thanks for the support that got me out of bed. :)
Donna
Taking flight for "silver"
Colin, doing his unique take on flyball, managed to earn enough points for his FDCh-Silver title (1000 points) on September 17, 2006 at the Jet Set tournament in York, PA. There were many comments from people on what a cute dog he is and how much they liked watching him run the lane. He has a very unique jumping style that isn't particularly fast, but is full of joy of the doing. Added to his obvious watching of everything around him, it was clear how much fun he was having with the sport.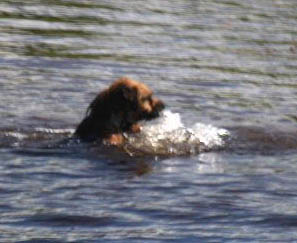 Maritime Madness brings success
Because of co-ownership constraints, Colin was only able to run one day at the ECDC ED Tests in Fredericton but made it count on July 30, 2006 under judge Marg Pough with the first leg towards his Canadian JE Title

He followed this up by running in a flyball tournament in Mt. Uniacke, Nova Scotia and earning the FDCh flyball title (500 points) on Wednesday, August 02, 2006.
Making a mark at the 2006 BTCA Specialty events
Colin qualified in Novice B Rally at the Echo Hills Kennel Club Show (BTCA Supported Entry) on June 4th, 2006. He then earned a qualifying score in Novice B Obedience at the BTCA National Specialty on Monday June 5th, 2006 for his first CD leg and topped that off by qualifying in Novice B Rally to complete his RN title

On Thursday, he successfully passed his CGC Test.
Flying High....or at least fast....enough
In Donna's words: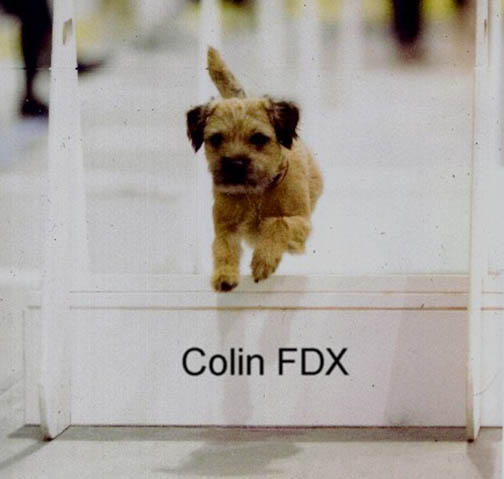 Colin competed in his first flyball tournament today [June 10, 2006] with four other brand new dogs. All of them earned enough points for their FD (flyball dog) title. The FD requires 20 points.
If they run well tomorrow they might earn enough points, 100, for their FDX title. Colin's on a roll; maybe it will happen.

It was a near thing, but in their last race today, Colin and his green team earned enough points for their FDX titles. I wish that I could say that Colin was brilliant and a terrific example of a flyball dog, but at least I can say that Colin kept his act together and did a much better job than what I was anticipating.
Rally What!!!!
As Donna put it:
Colin and I got his first leg in AKC Novice Rally Obedience at the Schooley's Mountain Kennel Club on Monday 09/05/05, under judge Louann Currey. Despite the heat, the lateness of the hour, and the fact that he was supposed to do obedience OUTDOORS, we managed to qualify. There is no need to remember the score. :)

This brag benefits the Red Cross
Working his way to a Title!
In Donna's own words:
The dogs and I all drove to Western Pennsylvania this weekend (August 20-21, 2005)to do earthdog. Colin qualified in Junior both days to earn his JE title.

Saturday he showed under Carrie Hamilton who remarked what a good worker he was. Sunday he showed under Brenda Weintraub and got her laughing. He got to the rats in 16 seconds, started working in 2 seconds, and then after about 10-15 seconds of very strong chewing/barking/digging he just stopped and seemed to back away, very strange behavior for a dog working that hard. Just as she thought that, and was wondering about it, he SLAMMED into the bars/cage so hard that the cage sprang up through the roof of the quarry area and then crashed back down. He then continued working without pause through the rest of the time.
Blue Ribbon Finish!
Yep! Back to back Best of Winners, Best of Breeds and GROUP FIRSTs was all it took to finish off Colin's Canadian Championship at the Fredericton Kennel Club shows on July 29 and 30, 2005 under judges Heather Langfeld and Denise Cornelssen. Kudos to Donna for making the LONG drive from Maryland.
Two Tough Points
Colin made his Canadian Show debut at the Chateauguay Valley Kennel Club Shows (July 1-4, 2005). Aside from Colin, there was one open bitch but she apparently finished after entries closed, moved up to Specials (Best of Breed) then did not turn up. Thus there were no points at the breed level. The group competition, though numerically small was EXTREMELY STRONG so we were very proud when Colin managed to pick up a Group 4th under Marilynn Mincey on Saturday for one point and another Group 4th on Mondey under Peter Machen
Tunnel Vision!
In Donna's own words:
Last weekend my club had a NADAC agility trial. When I decided to go, I entered Free, and then thought, since I'm going, why don't I put Harry in a couple of classes that aren't too difficult on his back and then, on a whim I decided to enter Colin in Tunnelers both days. Tunnelers, not surprisingly based on the name, is just tunnels, no other obstacles, just tunnels after tunnels after tunnels. Free loves it and will run it just for the joy of doing it, no rewards or encouragement needed. Up to now, Colin has never done more than 3 or 4 obstacles in a row without getting a treat or toy to play with, but I figured with this sort of course it was worth the risk of him doing the 10 or 11 tunnels without a reward. It also would give me an idea of how he would do in an unfamiliar venue off leash.
Well he was really excited to get out there and compete. He had a ball and was very responsive to me and we really had fun as a team. He now has two tunneler legs in NADAC. We're still a ways from being able to do more difficult courses (like anything else besides tunnelers), but this was certainly a nice start. BTW, the minimum age for NADAC competition is 18 months, and he turned 18 months last Saturday, just in time for this trial.
Venturing into new fields
Colin took the first step on a new career path when he was one of four Scrimmage kids to earn a Certificate of Gameness at the North American Teckel Club's AWTA Trial in Crosswicks, NJ on May 30, 2005. Judge was Carrie Hamilton.
Well Worth the Trip

A quick Easter trip to Soprano's country, Winners Dog for two points and up that to a three point Major with Best Opposite Sex over the Male Special and "voila" (or the Italian equivalent) and Colin is an American Champion.
He Finished at the New Brunswick Kennel Club Show under Border Terrier enthusiast Larry Adams on March 26, 2005.

Saratoga Success

The Cabin Fever weekend shows have traditionally been good to our dogs and their relatives. This year was no different.

At the Glens Falls KC show on February 04, 2005, Colin took Winners Dog under Dorothy MacDonald for 2 points. (Left)
Then on February 05, 2005 at the Saratoga Kennel Club show, he again took Winners Dog, this time for 3 points under "Mike" Billing giving him his second Major.(right)

Major Achievement!!!

That's right.... Colin took Winners Dog, Best of Winners and Best of Breed at the Merrimack Valley Kennel Club show on January 16, 2005 for a three-point major (Judge Mr. James White)

2004 BTCA National Specialty Brag

Colin equals consistency! First place in Puppy Sweeps 6-9 mths class under Danish breeder judge - Palle Thomsen! First place in Regular Puppy Class 6-9 mths class under breeder judge Ruth Ann Naun

Decent Debut

To say the least!
Kudos to Donna S. for making the 11-hour drive to Vermont so that I could see and handle Colin - considering the miles that Anna R. covered with Roger to enable the breeding that produced Colin to take place, it must be "in the blood". Anyway, Colin made the trip worthwhile going Winners Dog at the Champlain Valley KC Show (judge Ken McDermott) on July 10, 2004 for two points and Winners Dog/Best of Winners/Best Opposite Sex (over a Group Placing Special) for two more points at the Green Mountain KC show (judge Robert [no bait no toys in the ring] Moore), July 11, 2004